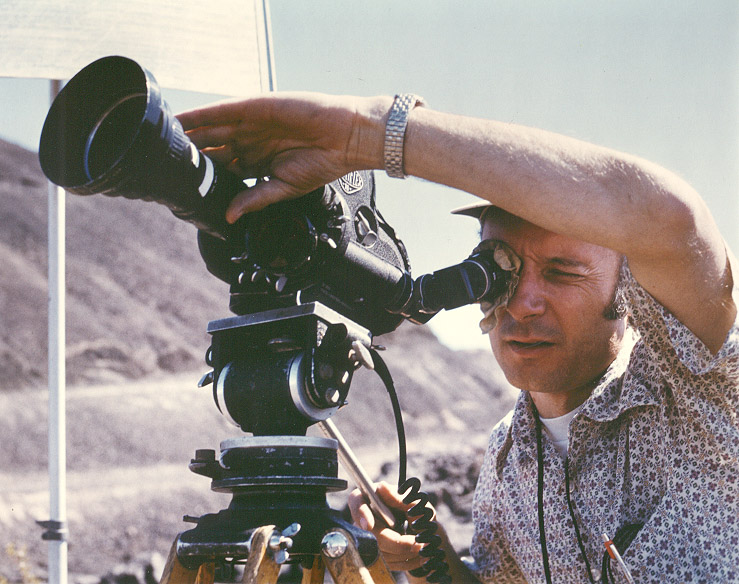 Filming 'Close-up on the Planets' for Disney (1982)
View Chuck Finance's 'Close-up on the Planets' , 'Comets: Time Capsules of the Solar System' Controversy Over The Moon and Evidence for the Ice Age Also, go to the filmography below to view more of Chuck's films.
Charles L "Chuck" Financeís career spans more than 40 years in film. Chuck was born in Klagenfurt, Austria, but grew up in Switzerland, where his father was a well-known chef. His family emigrated to the US in 1952. Chuck studied film at USCís famed Department of Cinema, where he earned his Bachelorís degree in 1957. Following a two-year stint in the Army Signal Corps as a still and motion picture photographer he returned to USC to complete his work for a Masterís degree in Cinema. Chuckís first films were made in 1961-1963 when he was brought on board as associate producer and writer on a series of films for the Chemical Education Materials Study (CHEM Study), sponsored by the National Science Foundation.
In 1963 he was accepted for a staff position at the West Coast Film Unit of Encyclopaedia Britannica Films and became engaged in producing and directing a number of films in the legendary AGI (American Geological Institute) series, working alongside series advisor John Shelton and cameraman Isidore Mankofsky. After the AGI series, he began making films for EBís Biology and Physiology series.
When EB decided to close its West Coast Film Unit, Chuck continued working as an independent producer/director, and for the next ten years made films for EB, the National Science Foundation, Jet Propulsion Laboratories, Churchill Films, BFA, Stanton Films, and others. He also wrote scripts, production managed, and directed non-theatrical films for other clients.
Chuckís academic films are engaging and, in the case of his films on the human body (Work of the Heart, 1967), are often wonderfully inventive treatments involving endoscopes and other medical devices. The high quality of his films has earned him more than 20 awards at film festivals in the U.S. and abroad.
In 1983, Chuckís colleague from their Britannica days, Tom Smith, introduced him to the producer of David Lynchís film Dune, who then hired him as the filmís visual effects coordinator. It proved to be a major turning point in Chuckís professional life: since then, he has worked primarily as a Visual Effects Producer in feature films. In 1986, he co-founded a full-service visual effects facility, where he oversaw production of titles, opticals, and visual effects for numerous feature films, including Bill and Tedís Excellent Adventure, Leviathan, and Mom and Dad Save the World. Since 1994, he has worked as a freelance visual effects producer, and co-founder VFX Partners, a consulting firm specializing in assisting filmmakers in budgeting special effects . He continues to teach at visual effects seminars and plays an active role on the Awards Committee of the Visual Effects Society.
Chuck's book, The Visual Effects Producer: Understanding the Art and Business of VFX, was published in 2009.
Filmography
A partial list of his work as director/producer includes:
For Encyclopaedia Britannica Films:
Rocks that Form on the Earthís Surface (1964)
Evidence for the Ice Age (1965)
Waves on Water (1965)
Rocks that Originate Underground (1966)
Why Plants Bend Toward Light (1966)
Work of the Heart (1967)
Eyes and Seeing (1968)
How Solid Is Rock? (1968)
Respiration in Man (1968) as producer
Ears and Hearing (2nd ed., 1969) as producer
Muscle: Chemistry of Contraction (1969)
Muscle: Dynamics of Contraction (1969)
Muscle: Electrical Activity of Contraction (1969)
Controversy over the Moon (1970)
Nerve Impulse (1970)
Controversy over Industrial Pollution (1972)
Regulating Body Temperature (1972)
Work of the Kidneys (2nd ed., 1972) as producer
Diffusion and Osmosis (2nd Ed.,1973)
Energy: A Matter of Choices (1973)
Lungs and the Respiratory System (1975)
The Moon: A Giant Step in Geology (1975)
Senses and Perception: Links to the Outside World (1975)
Skeleton (1979)
Major Goals in Gastrointestinal Emergency Care (ca.1980)
Recognition of Orthopedic Emergencies (ca.1980)
The above two titles never appeared in a general-interest EB catalogue. About them, Chuck writes: "The emergency nursing film(s) (were) made for EB around 1980 or so for a separate training program the company produced on the general topic of Emergency Nursing... EB must have made a good dozen or more of these emergency nursing films, all of which (I believe) were produced by freelancers such as myself."

For BFA:
Elections in the United States (1976)
Political Parties in the United States (1976)

For Churchill Films:
Energy: The Dilemma (1980)
Energy: The Nuclear Alternative (1980)

For Stanton Films:
'Solar System' series (5 films, including 'Earth,' 'Moon,' 'Sun,' 'Inner Planets,' and 'Outer Planets', all 1983)
For Disney Educational Media:
Close-up on the Planets (1982)
Comets: Time Capsules of the Solar System (1982)

For Jet Propulsion Laboratory:
I Will See Such Things (1983?)
Ulysses Ė Voyage to the Sun (unidentified date)
Voyager at Uranus (1986)