Encyclopaedia Britannica's Foreign Language Instruction Films of the early 1960s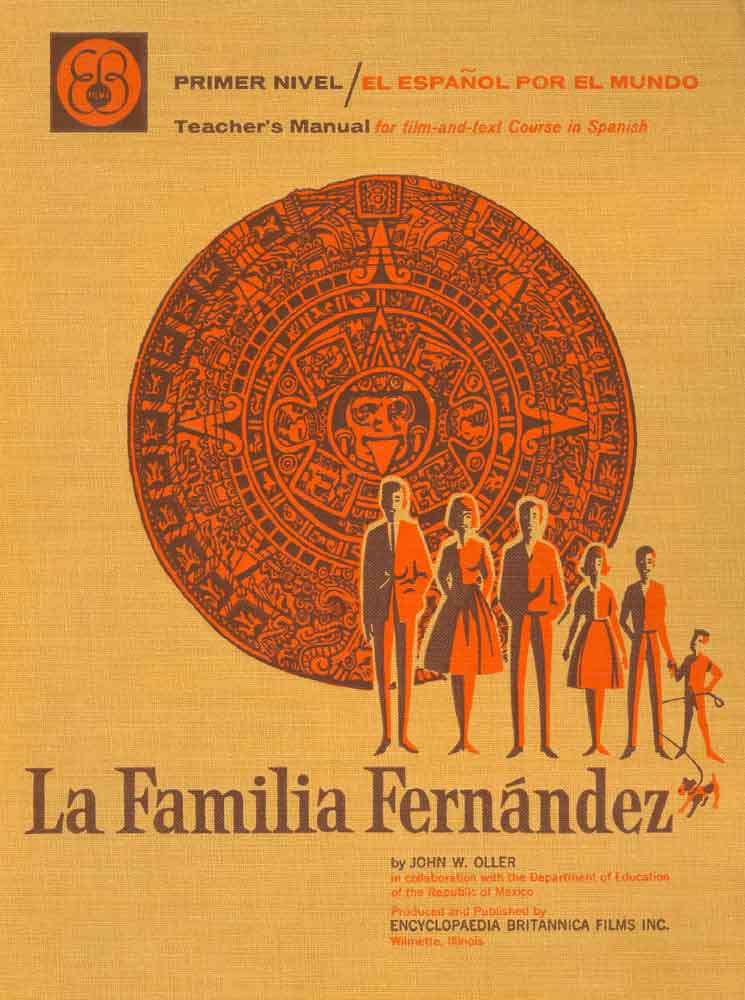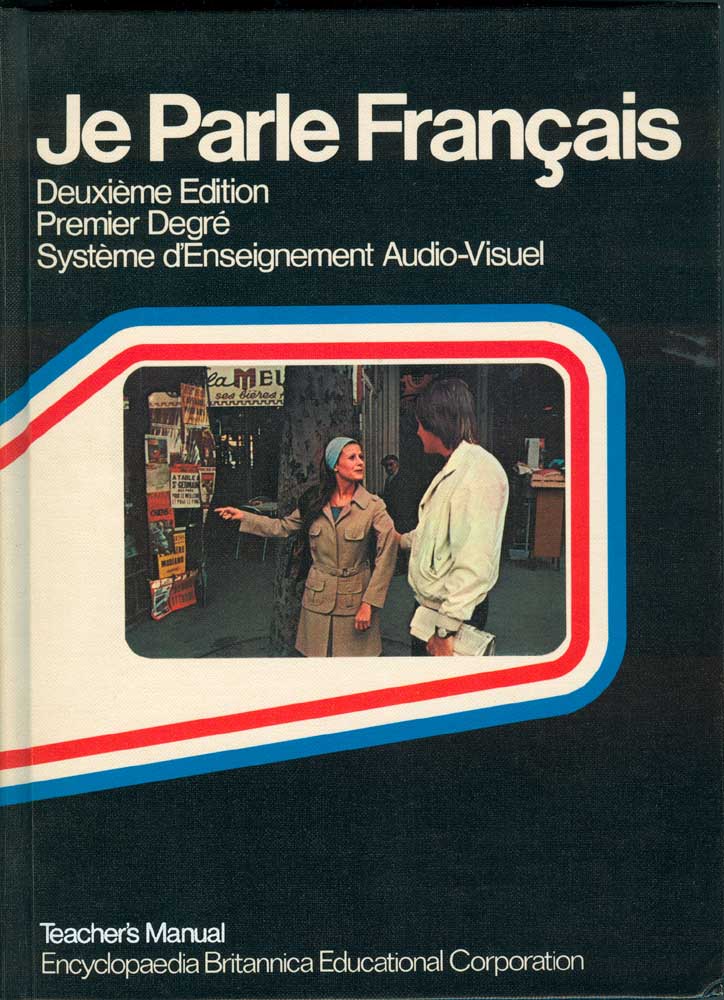 View selected films from the 'Je Parle Français (1961) and Emilio en España (1965) series
Note: We are trying to find extant audio tape recordings from any of the EB instruction series. If you have them, please contact us.
Encyclopaedia Britannia Films produced three groundbreaking foreign-language instruction series in 16mm format in the 1960s: Je Parle Français, La Familia Fernández, and Emilio en España. Produced by Milan Herzog, these films have almost entirely disappeared from media libraries, and were apparently discontinued by EB prior to 1977. In a departure from how foreign languages previously were taught, the EB series consisted of video-audio-lingual instruction (VAL), a multimedia term coined by Charles Benton, in which films coordinated with audio tapes and visual aids, including filmstrips. Each series was based on a continuous narrative, the same characters appearing in each series' films. They were made by seasoned directors, featured professional actors, suggested some degree of character development, mparted important elements of the culture as well as the language.
The series are described below. If you have access to any of these films, wish to donate them to our archive, or have stories or anecdotes relating to the making of these films, please contact us, as the films and their history are historically significant.
Je Parle Français, Premier Degré (1963)
The 'Je Parle Français' series of French Language Instruction films was filmed in 1960-1961, produced by Encyclopaedia Britannica Film's Milan Herzog in conjunction with Otterbein College professor LaVelle Rosselot and Georges Matoré, Dean of the Language & Civilization Dept, Sorbonne. Rosselot was the prime educational consultant and curriculum developer for the film project. Her father was a history professor at Otterbein, her brother Gerald one of the founders of Scientific Atlanta. She makes at least one appearance in the series as herself in lesson #7,'Pouvez-vous Me Dire...' Referring to the same episode, filmmaker Tom Smith writes: "In lesson #7 (18:43), I dubbed the voice of the fellow coming down the stairs carrying a tennis racket. 'Hi Chris, see you later.' The French actor playing the role had a bad accent when he spoke English so Milan used me."

The films were made by Tadié-Cinema in France, and distributed by EB in 1963. There were 62 speaking roles in the series and a crew of 16, including cinematographers Georges Strouvé and Jacques Duhamel. Actors were not credited in the films, but several were listed in the Teacher's Manual, including Jean Renoir film veteran Ghislaine Dumont as Margot. The series comprised 120 films, most between four and eight minutes in length, none longer than 10 minutes.

The films highlight important French monuments including Mont Saint-Michel and the chateaux of the Loire. They depict France as it was in 1961, including haute couture fashions (e.g. the magnificent dress worn by the wife in the 'Chaumont' film), family members smoking cigarettes, and the relative lack of motor traffic. The story line revolves around the travels through France of Anne, a Québecoise, her French friend Margot, and Margot's uncle, who acts as her guide.

Today, aside from what may be in EB's vaults, no complete edition of these films appears to be extant, and teacher's manuals are nearly impossible to find. It is believed that manuals were in 4 volumes, covering lessons 1-27, 28-66, 67-81, and 82-120 respectively.
In 1970, Je Parle Français Deuxième Degré, Nouvelle Édition , was distributed by EB, consisting of what are to believed to be 20 films. Not part of the Herzog/Rosselot series, they consist of a series of travelogues with French dialogue. In 1974, EB released an updated series of Level 1 French instruction films, Je Parle Français Premier Degré, Deuxième Édition, consisting of 20 titles, each of which was directed by Michel Beaudry, Michel Boyer, Jean Goumain, or Jean Leduc. This series, produced by Edward F. "Frank" Wilgocki, Jr., may have also been distributed under the name Pays Francophones. These newer editions resulted in many schools and media libraries deaccessioning the older 1961 series, accounting for the near-total disappearance of the earlier series today.
La Familia Fernandez [View lesson 54, 'Otra Carta']
This first-level Spanish course was part of EB's El Español por el Mundo series. It was filmed in Mexico in 1963 and produced by Herzog in conjunction with educator John W. Oller, the prime educational consultant and curriculum developer for the film project. Also serving on the consulting team was Angel González Araúzo. The films were produced by EB in collaboration with the Department of Education of the Republic of Mexico. The film director for this series of 54 titles was Irving Rusinow. There was a cast of 10 individuals, several of whom were or became well-known. Among them were:
· Horacio Casarín (1918-2005), who played Sr. Gutiérrez, was a well-known soccer star. His wife, María Elena, played Sra. Fernández.

· René Dupeyrón, who played Pepito, later appeared in 'The Wild Bunch' and 'Bring Me the Head of Alfredo Garcia.

· Mario Humberto Jiménez Pons as Emilio (won the Silver Ariel Award for Best Juvenile Performance at the 1957 Ariel Awards in Mexico, in the film El Camino de la Vida (1956, dir. Alfonso Corona Blake)'

· Rodolfo Landa 1926-2004), who played Sr. Fernández, was an actor/producer, born Rodolfo Echeverria, appeared in Luis Buñuel's 1955 film 'Ensayo de un Crimen,' and was the brother of future Mexican President Luis Echeverría.
Emilio en España [View lesson 11, Campos Manchegos, and lesson 12, Molinos de Viento]
This second-level Spanish series in EB's El Español por el Mundo series consisting of 27 films was made in Spain in 1964, produced by Milan Herzog in conjunction with educator John W. Oller, the prime educational consultant and curriculum developer for the film project. Also serving on the consulting team was Angel González Araúzo. The films were co-produced by EB and Ancora Films, in collaboration with the Ministerio de Educacción Nacional, España. Films were directed by Antonio Ribas, who we believe to be Antoni Ribas i Piera (b. October 27, 1935 in Barcelona, d.October 3, 2007). The cinematographer was Manuel Rojas (1930-1995), whose credits include more than 170 commercial films and TV series.
This series follows Emilio from the first-level Fernández series, as he travels through Spain, visiting his grandfather in Sevilla, and his cousin Paco in Barcelona. Various regions in Spain explored and differences in Castellano and American Spanish are contrasted.
Director Ribas and producer Herzog hired an array of well-known Spanish stage, television, and screen actors and at least one Argentinian, (Idelma Carlo) to perform in the series. They include, in order of appearance:
• Rafael Bardem (1889-1972) as Santiago, real-life grandfather of actor Javier Bardem
• Matilde Muñoz Sampedro (1900-1969) as Roasario, real-life wife of Rafael Bardem
• José María Labernié as Ignacio
• Mario Humberto Jiménez Pons as Emilio
• Emilio Laguna (b. 1930) as the guide
• José Orjas (1906-1983) as Tomás
• Ángeles Macua as Consuelo
• Manuel Guitián (1900–1992) as the mayor
• Idelma Carlo (as Idelma Carletti, b. 1932) as Esperanza
• José Luis Zalde (1910-1977) as Peón
• Valentín Tornos (1901-1976) as Don Sancho
• José María Prada (1925-1978 as Victor
• Manuel Manzaneque (1940-2016) as Carlos
• Luis García Ortega (1925-1977) as Fraile
• María Luisa Amado as Pilar
• Guillermo Amengual as campesino

Coloquios Culturales
EB's third-level Spanish series, Coloquios Culturales series, consisted of 20 filmed titles, but never released commercially, distributed as answer-prints only to John Oller and Milan Herzog. Made by the same production team and with the same actors as the Emilio series, it followed the story of Emilio as he leaves Sevilla and arrives in Barcelona. John Oller, Jr. remembers his father's frustration that the Coloquios series was abruptly cancelled by EB for reasons unknown as of this date. The Coloquios films in our collection were donated by Milan Herzog and John Jr.'s brother Randy Oller.
In total, John Oller's EB Spanish language instruction series consists of 54 films in the Fernández series, 27 films in the Emilio series, 20 in the Coloquios series.
John W. Oller, who served as the educational collaborator and creator of the curriculum, also served as the collaborator on at least 11 other Spanish language films in EB's El Español por El Mundo series on the subjects of art, dance, theatre, and culture.
These films are among the most extensively researched and produced foreign language instruction films ever made. Their story lines, acting, and directing were equal to that found in feature films. That they've vanished from institutions and libraries in unfortunate, as is the dearth of documentation in terms of teacher's manuals and other materials.
Please contact us if you can add to the story by providing more information.