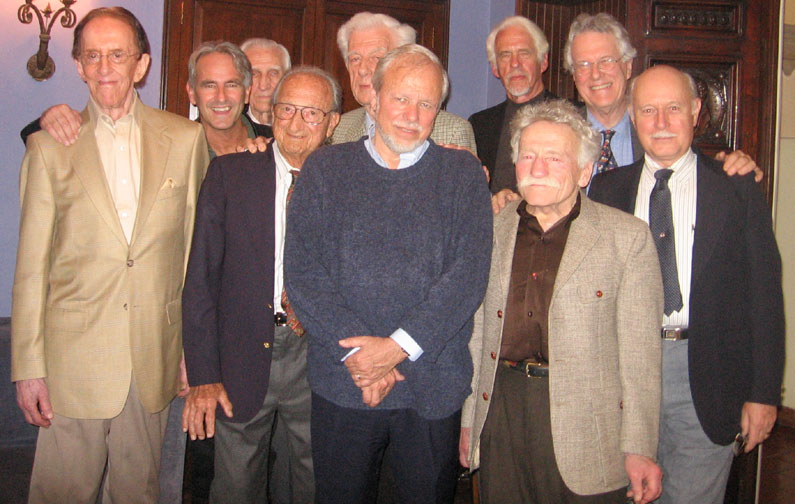 A historical gathering of Encyclopaedia Britannica Films alumni at Larry Yust's Los Angeles home, April, 2006. L to R: Bill Deneen, AFA's Geoff Alexander, Warren Everote, Milan Herzog, Bert Van Bork, Tom Smith, Larry Yust, Isidore Mankofsky, Charles Benton, Chuck Finance. Photo by Iris Shimada.
View the 21 minute film Celebrating the Life of Milan Herzog. Made for the people attending a celebration of his life held on June 19, 2010 in Los Angeles. Of particular interest is Milan's own recounting of his life, taped on his 90th birthday, which occupies much of the soundtrack of this film. View selected films from Herzog's 'Je Parle Français (1961) and Emilio en España (1965) series.
Milan Herzog produced, both as a line producer as well as an executive producer, an estimated 400 titles, probably more academic films than anyone in history. Born in Vrbovec, Croatia, on August 23-24, 1908, Milan's greatest influence in film was as Encyclopaedia Britannica Films' Vice President of Production, where he influenced, supported, and befriended filmmakers such as Chuck Finance, Tom Smith, Bert Van Bork, and Larry Yust. Milan passed away on April 20, 2010. His wife Shanta Gidwani Herzog, children's media advocate, festival producer, and contributor to Milan's cinematic legacy, passed away in 2020.
Milan had an exceptionally rich life, and his pre-film memoirs could easily fill several volumes. Prior to his film career, he was a judge, foreign newspaper correspondent, Department Head at the U.S. Office of War Information, and commentator for the Voice of America.
A citizen of the United States since 1940, Milan began his career at Encyclopaedia Britannica Films in 1946 as a staff producer. Highlights of his producing career include extensive series of foreign-language instruction films (La Familia Fernández, Emilio en España, and Je Parle Français), and over 60 films on Humanities subjects.
Milan was responsible for several "firsts". His Medieval films from the early 1950s were among the first academic historical films to use costumed actors, and his Christmas Rhapsody (1955) is the first film to utilize a musical score comprising a children's orchestra and chorus.
In 1958-1959, Milan served as an advisor to the fabled Physical Science Study Committee (PSSC), and produced a film for them as well. He co-founded the North Shore Community Theatre in Evanston, Illinois, wrote a three-act play, and served on the board of Charles Benton's Films Incorporated.
Milan was a legendary raconteur with an outstanding memory (we once asked him about the assassination of Archduke Ferdinand, which began World War I: he remembered it), with witty and insightful commentaries on past and present events, people, and films. Living until the age of 101, he attributed his longevity to "choosing good parents", and lived his final years in Los Angeles with wife Shanta, close to the industry to which he contributed so much.
Additional Herzog pages on this site:
- Milan's filmography remains a work in progress, but we've documented much of it.
- To get to know the man more personally, read Leo Dratfield's 1980 interview with Milan.
- Read Tom Smith's reminiscences of his days with Herzog
- Shanta Gidwani Herzog
- Geoff Alexander, Director, AFA